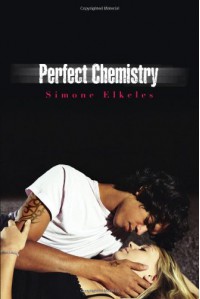 Dios mio!
That's probably the best word to describe my feelings after reading this book. This book has everything, it made me laugh, cry, curse, I was angry, happy, relieved. I like a lot of things about this book I'll just say few.
Firs, I like writing, Spanish words especially. I'm not fluent in Spanish but those words made me laugh. I imagined Alex saying them and that Mexican accent. I had(or better say i still have) clear pictures in my head.
Second thing, I love characters. Britt isn't diva or whatever. She doesn't even act like one. I often say that I don't like female characters because they're annoying, but Britt is great. I think I don't have to say much about Alex. I'll just keep his picture in my head, on safe. I have to say something about Poco, I cried after things that happened to him, but also laughed so many times and Isabel is perfect for him.
Tonight, while I was walking I remembered some parts of book, and I found myself laughing, I wanted to laugh out loud.
To be honest I'm afraid of reading second book, I'm not sure do I want to read it.
I can go on and on...but i don't want to write big review, i just want to go to bed with this smile on my face.