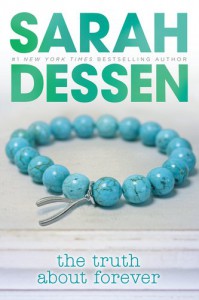 I'm not so familiar with Sarah's books, this is actually my second and it's better than Someone Like You. I'm not big fan of this kind of stories, they're maybe to girlish for my taste, but this is nice.
After Marcy's father died she and people around her became different, they all got into routine they were comfortable with, but when some things started to change the routine wasn't the same. Marcy's boyfriend is the most annoying person in this whole book, oh I stop counting how many times I wanted to slap him. Such an idiot. Well, her mother is not much better if you ask me, but I can understand her, for somethings. Here I couldn't relate with Marcy cause I'm totally different type of a person, but I could understand her decisions. Wes and other company from Wish were great. Really they were interesting part of this whole story. I also like the end, but then again me and happy ends. I just can't resist them.
All in all, really interesting story. Maybe slow paced but those books are usually like that.