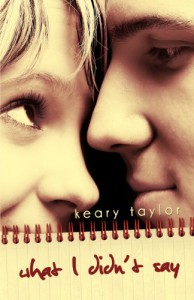 Here I'm again, with my all time
I'll try not to give 5 stars to every book that make me cry
"problem". At the end I always manage not to listen to myself. I know that a lot of you won't agree with me about this book and yes true, maybe it doesn't deserve 5 stars and maybe the writing could've been better and so on. But I enjoyed in this book and that's the only thing that matters.
It's hard to say anything about the story as too much is said in the summary. If you, like me, don't read blurbs then you'll be surprised or better said shocked, again as me, when you find out about the accident. Jake is like any other senior year student. He plays football, hangs out with his friend and thinks about his future. Everything seemed normal until the accident. He thinks that for him everything is over, because he is not like "normal" people again. He is mute. Only after one person shows him her real self and everything she bares on her shoulders he will understand that
not being able to talk isn't the worst thing that could ever happen to you.
So this is story about teenagers and all the stupid decisions they make, all the doubts they have and all the words and actions that they're afraid to say or make. This is also the story about life. At the end this is the story that will made you consider your actions and maybe change your views. That's why I'm putting this book on my YA Saves Reading Challenge.
***NOTE: Copy of this book is provided by publisher via NetGalley. Thank you.
I'm not paid for writing review - I do this for free as a lover of written word. All opinions in this review are personal.